Hi there,
As we continue social distancing, sheltering in place, working remotely, and homeschooling our children, we may have to start accepting that the "new normal" is here to stay, at least when it comes to germs and sanitization. With that in mind, we want to revisit the most fundamental aspect of workforce management, the punch — the act of clocking in and clocking out.
A "punch" can be captured many ways - web punches through a computer, tablet, or mobile device / app, telephonically by punching through dial-in, and physical timeclocks. Many customers use a combination of these methods to capture a punch. However, if you use a timeclock with fingerprint or handprint punching, we want to review a few ways to use a timeclock without "touching", what we call contactless punching.
Punching in and out doesn't always mean you need to make direct contact with a time capture device. M&H offers a few different timeclocks with our time and labor management solution that have integrated badge readers — bar code, magnetic stripe, proximity, and Smart Card — and we also have facial recognition and iris readers as available 3rd party options.
Five ways to clock time with minimal contact during COVID-19 pandemic
Clocking time using bar code badge readers during COVID-19 pandemic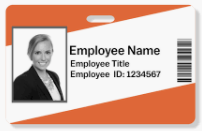 Many clocks have badge readers - most likely a bar code badge reader. A bar code badge allows employees to swipe to clock in and out without directly touching the time clock.
Clocking time using magnetic stripe readers during COVID-19 pandemic

Like bar codes, magnetic stripe readers allow employees to swipe to clock in and out. If you have a clock with a magnetic stripe card reader, it is likely that some or all your employees already have magnetic stripe cards. If not, you can procure additional magnetic stripe cards for those employees who don't already have them by contacting an M&H representative.
Clocking time using internal HID proximity card readers during COVID-19 pandemic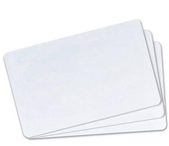 Other clocks have an internal HID proximity card reader for contact-free card reading. This means that there is a physical distance between employees and the device when punching in and out. If your clock has an HID proximity reader, it is likely that some or all employees already have compatible cards. There are other ways to provide Proximity solutions to employees - wristbands, fobs, cards, retractable lanyards, name and picture badges, etc. These wearable methods have the potential to ensure almost no contact between employees and time clocks (employee "skin" does not touch the clock). Visit ID Shop, to learn more about any of the other badge reader card options in this post (make sure to talk to an M&H representative before purchasing to discuss specifics).
Clocking time using smart cards during COVID-19 pandemic
The final badge reader type supported by a newer generation of clocks is called a Smart Card reader. Like HID proximity cards, Smart Cards do not require contact.
Clocking time using facial recognition during COVID-19 pandemic
There are a few solutions M&H offers when it comes to facial recognition. One solution is offered by M&H partner M2SYS, RightPunch™ and serves as an alternative to clocks or works in conjunction with them. It can run on virtually any Windows PC or tablet, and supports multiple forms of biometrics including facial recognition for a completely contact-free and hygienic punch experience. We also have another facial reader timeclock that works with M&H OneSource, however, it has limited features (punch in and out only).
While avoiding physical contact with time capture devices helps reduce the spread of germs, no method is perfect, and all employees should continue to wash their hands regularly for 20 seconds per CDC guidelines. Cleaning your time clocks is one way to minimize exposure to germs, but you want to do so without damaging them. Please remember never to spray any harsh cleaning agents directly onto a device. Spray cleaner onto a soft, lint-free cloth and then wipe the device. And don't forget to clean the touchscreen on timeclocks that have them (read instruction manual before starting to clean a touchscreen).
Any Questions?
If you have any questions about any of the solutions offered in this blog post, feel free to contact us at our Athens, Georgia office or our Albany, Georgia office, or email us at info@mh1s.com.
Stay safe out there!